In the fast-paced world of manufacturing, time is of the essence. CNC Rapid Prototyping has emerged as a game-changer, enabling manufacturers to develop high-quality products at breakneck speeds. But what exactly is CNC Rapid Prototyping, and why is it so important? In this article, we at CNC Rapid will delve into the crux of this innovative technology.
What is CNC Rapid Prototyping?
CNC Rapid Prototyping is a manufacturing technique that involves the use of Computer Numerical Control (CNC) machinery to create physical prototypes from digital designs swiftly. This process is crucial for testing and validating designs before mass production.
Key Benefits:
Precision and Accuracy: CNC machinery can produce parts with high precision, ensuring that the prototype is an accurate representation of the final product.
Material Versatility: With CNC Rapid Prototyping, a wide range of materials can be used, including metals, plastics, and composites.
Cost-Effective: By identifying and rectifying design flaws early, companies can save on production costs.
Customization: CNC Rapid Prototyping allows for the production of customized parts tailored to specific requirements.

Why Choose CNC Rapid?
At CNC Rapid, we pride ourselves on providing top-notch CNC Rapid Prototyping services. Here's why you should choose us:
Cutting-Edge Technology
We employ the latest CNC machinery and software to ensure that your prototypes are of the highest quality.
Experienced Team
Our team of skilled engineers and technicians have years of experience in the industry, ensuring that your project is in capable hands.
Quick Turnaround
We understand the importance of time in product development. That's why we are committed to delivering your prototypes in the shortest time possible.
Customer Satisfaction
At CNC Rapid, customer satisfaction is our top priority. We work closely with our clients to ensure that their needs are met.
China has become a global hub for CNC machining due to its advanced manufacturing capabilities and cost-effective solutions. At CNC Rapid, we leverage China's manufacturing prowess to offer high-quality CNC machining services. Our facilities in China are equipped with advanced machinery, ensuring that we can handle projects of any scale and complexity.
Precision is paramount in CNC machining. Our precision CNC machining services in China are designed to meet the most stringent tolerances. Whether you need intricate components for medical devices or robust parts for the automotive industry, our precision CNC machining ensures that every detail is crafted to perfection.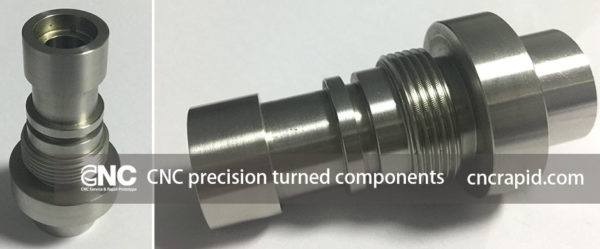 Every project is unique, and off-the-shelf solutions often don't cut it. That's where our CNC custom machining service comes in. At CNC Rapid, we work closely with our clients to understand their specific requirements. Our engineers and technicians use their expertise to develop custom solutions that are tailor-made for your project.
CNC Milling Components
CNC milling is a critical aspect of CNC machining, and it involves the use of rotary cutters to remove material from a workpiece. Our CNC milling services are ideal for producing complex shapes and high-tolerance components. With our advanced CNC milling machines, we can produce components with exceptional surface finishes and dimensional accuracy.
Turning is another essential CNC machining process where a cutting tool is used to remove material from a rotating workpiece. Our CNC turning services are perfect for producing cylindrical parts with tight tolerances. From shafts and bushings to knobs and pulleys, our CNC precision turned components are known for their quality and consistency.
Real-World Applications of CNC Rapid Prototyping
CNC Rapid Prototyping is not just a buzzword; it's a technology that's being used across various industries. Here are a few examples:
Automotive: Car manufacturers use CNC Rapid Prototyping for testing car parts and designs.
Robotics: In robotics, CNC Rapid Prototyping is essential for creating and testing components of robots, ensuring their functionality and efficiency.
Medical: The medical industry uses CNC Rapid Prototyping for creating surgical tools and custom implants.
Consumer Goods: From toys to household appliances, CNC Rapid Prototyping is used for developing a wide range of consumer products.
Get in Touch
CNC Rapid Prototyping is an indispensable tool in modern manufacturing. With its ability to produce high-quality prototypes quickly and efficiently, it is revolutionizing the way products are developed. At CNC Rapid, we are at the forefront of this revolution. Contact us today to learn how we can help bring your ideas to life.
We invite you to take advantage of our Metal & Plastic parts machining service, ideal for both prototypes and production needs. To receive a personalized quote, simply visit our website to get quote or reach out directly to our team at [email protected] with details of your project.
For the most accurate and speedy quote, kindly include the following in your communication:
Part Name
3D Drawing
Quantity
Material
Tolerance Range
Surface Finish
We appreciate your interest and look forward to serving your machining needs. Thank you for your time!