CNC machining aluminum parts. DFM Rapid provides you a professional one-stop service in product development and volume production, from Rapid prototype to CNC machining production.
We specialized in CNC machining services, CNC turning and CNC milling services. Precision CNC machined parts made from turned or milled plastic and metal components.
We offer the wide range of CNC machining parts and we are open to manufacturing custom CNC machining parts as per your unique requirements. CNC machining services feature personalized customer service for made-to-order parts and components. We offer turning, milling, drilling, tapping, boring, and grinding for a variety of materials.
CNC machining aluminum parts
Aluminum parts are economical, lightweight and attractive. Parts made from this metal are often less expensive because they can be machined in less time than many other metals such as steel and do not require additional finishes. As the pure metal is soft, small amounts of copper, magnesium, zinc and other elements are added for strength.
It is resistant to corrosion as a thin protective layer is formed when exposed to the atmosphere, preventing surface rust. Aluminum is chemical resistant, easy to machine, and has a high strength to weight ratio – it weighs about one-third as much as steel. It is also a good conductor of electricity and heat, making it ideal for heat sinks, and reflects heat and light, is non-magnetic and is malleable.
Common materials
Aluminum 6061 has good mechanical properties and good weldability. It is one of the most common alloys for general purpose use. 6061 is widely used for the construction of aircraft structures, such as wings and fuselages, yacht construction, utility boats and bicycle frames and components. 6061 is highly weldable and is often used in extrusions and hot forging of automotive and industrial parts.
Aluminum 7075 is strong, with good fatigue strength and average machinability, but is not weldable and has less resistance to corrosion. Cost is relatively high. 7075 is often used in aircraft including wings and fuselages, rock climbing equipment and bicycle components.
CNC machining is a practical option for everything from prototype manufacturing to production runs. We are a one-stop shop for custom machining and manufacturing.
What is CNC Machining?
CNC Machining is also called computer numerical control machining, it is digital manufacturing technology. It is one of the most accurate manufacturing methods known by engineers all over the world.
Why choose CNC machining?
CNC machining is a fast, precise, and universal machining method, suitable for manufacturing any quantity of product orders, without the need to make a mold, that is economical.
What materials can be machined?
Common metal materials on the market such as stainless steel, mild steel, aluminum, copper, brass, magnesium alloy, titanium alloy can be used for CNC machining. Plastics can also be CNC machined. Such as acetal, POM, ABS, Polycarbonate, PMMA, PEEK, and more.
What is the maximum part size your machine can handle?
Our maximum part size is 2000 x 600 x 600 mm, 78.7 x 23.6 x 23.6 in
What is the tolerance range that CNC machining can do?
It depends on the dimension of the parts. Normally our standard of tolerance is from +/-0.01mm to +/-0.15mm.
Get in Touch
If you need Metal & Plastic parts machined for CNC Aluminium Machining prototypes or production, please feel free to get a quote online.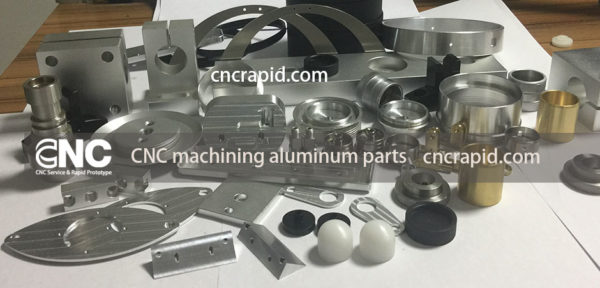 Or email us at [email protected] to tell us About Your Project
Please include the following information so that we can provide an accurate quote:
Part Name
3D Drawing
Quantity
Material
Tolerance Range
Surface Finish
Thank you for your time!