CNC Rapid is a leading provider of custom aluminum machining services. We have the expertise and capabilities to turn your ideas into reality, no matter how complex or challenging they may be.
We offer a wide range of CNC machining services, including:
CNC milling
CNC turning
CNC drilling
CNC tapping
CNC grinding
Aluminum is a versatile metal with a wide range of properties that make it ideal for CNC machining. It is strong, lightweight, and corrosion-resistant, making it a good choice for a variety of applications. But what sets us apart at CNC Rapid is our ability to customize this versatile material to meet the unique needs of each client.
Whether you need a single prototype or a large production run, our custom aluminum services can cater to your needs. Our advanced CNC machines can create intricate designs with high precision, ensuring that the final product matches your specifications to the last detail.
The CNC Rapid Advantage
At CNC Rapid, we are not just a service provider; we are your trusted partner in the manufacturing process. We understand the importance of speed in today's market, which is why we offer rapid prototyping services. This allows you to get a physical model of your design in a short time, enabling you to test and refine your ideas before moving to production.
Moreover, we also offer small-batch CNC machining, making us the perfect solution for businesses that need a limited number of parts. This service is ideal for testing the market or for products that require a high level of customization.
At CNC Rapid, we specialize in aluminium rapid prototyping. Our advanced CNC machines can quickly turn your CAD designs into physical prototypes, allowing you to test and refine your designs before moving to full-scale production. This not only saves you time and money but also ensures that the final product meets your exact specifications.
As a precision CNC machining company, we pride ourselves on our ability to produce parts with high accuracy and consistency. Our skilled technicians use advanced equipment to ensure that each part we produce meets the highest standards of quality. Whether you need a single part or a large production run, you can count on us to deliver.
Our CNC machining milling services are second to none. We can handle a wide range of materials and complex geometries, making us the perfect choice for all your milling needs. From simple parts to complex assemblies, we have the expertise and equipment to deliver high-quality results every time.
In addition to aluminum, we also offer stainless steel CNC milling services. Stainless steel is known for its strength and corrosion resistance, making it an excellent choice for a wide range of applications. Our advanced CNC machines can handle even the most complex stainless steel parts, ensuring that you get the high-quality results you need.
Our rapid prototyping aluminium services are designed to help you bring your ideas to life quickly and efficiently. We use advanced CNC machines to create accurate prototypes in a short amount of time, allowing you to test your designs and make necessary adjustments before moving to production.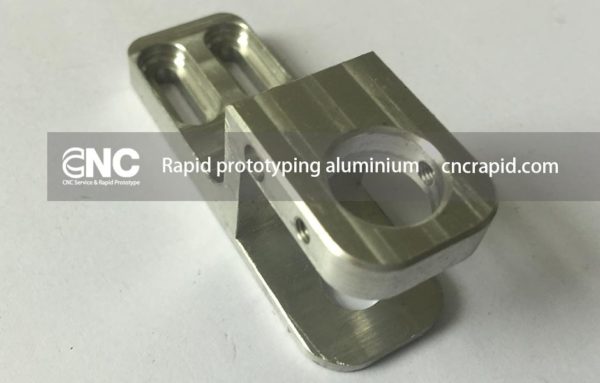 Boost Your Business with CNC Rapid
In a world where customization is key, our custom aluminum services can give your business the edge it needs. By offering high-quality, precision-machined parts at a rapid pace, we can help you stay ahead of the competition.
Whether you're a small business looking to prototype a new product or a large company in need of a reliable partner for your manufacturing needs, we've got you covered. Our commitment to precision, speed, and innovation, coupled with our flexible services, makes us the go-to solution for all your custom CNC aluminum needs.
Contact CNC Rapid Today!
So why wait? Turn your ideas into reality with our custom aluminum services. We invite you to take advantage of our Metal & Plastic parts machining service, ideal for both prototypes and production needs. To receive a personalized quote, simply visit our website to get quote or reach out directly to our team at [email protected] with details of your project.
For the most accurate and speedy quote, kindly include the following in your communication:
Part Name
3D Drawing
Quantity
Material
Tolerance Range
Surface Finish
We appreciate your interest and look forward to serving your machining needs. Thank you for your time!