CNC machining is a versatile manufacturing process that can be used to create prototypes, parts, and assemblies for a wide variety of industries. In China, there are many CNC machining service providers that offer a range of services from prototype to production.

One of the leading CNC machining service providers in China is CNC Rapid. We have a team of experienced engineers and machinists who can use our expertise to help you with all of your CNC machining needs. We offer a wide range of services, including:
CNC prototyping: We can quickly and accurately create prototypes of your designs using a variety of materials, including plastic and metal.
CNC production: We can produce high-quality parts and assemblies in small to medium quantities. We have the capacity to handle complex parts and tight tolerances.
Why Choose CNC Rapid?
1. Precision Manufacturing with CNC Milling
CNC milling, as a process, is renowned for creating intricate parts with utmost precision. Even the tiniest of tolerances can significantly impact the final product. At CNC Rapid, the emphasis is on ensuring that every part produced meets the highest standards of precision, making it an indispensable tool for businesses that prioritize quality. Read more about the importance of CNC milling in precision manufacturing.
2. A Comprehensive Range of Services
From rapid prototyping to high-volume production, CNC Rapid offers a spectrum of services tailored to meet diverse business needs. Whether you're a startup looking to prototype a new product or an established enterprise seeking large-scale production, CNC Rapid has got you covered. Discover why CNC Rapid is the best choice for CNC services in China.
3. Speed and Efficiency with Rapid CNC Prototyping
In today's fast-paced business environment, time is of the essence. With rapid CNC prototyping, businesses can bring their products to market swiftly, gaining a competitive edge. CNC Rapid recognizes the significance of speed without compromising on quality, ensuring that your prototypes are ready in the shortest time possible.
4. Quality and Affordability Combined
Finding a CNC service that strikes the right balance between quality and cost can be challenging. CNC Rapid simplifies this dilemma by offering top-tier CNC machining services at competitive prices, ensuring that businesses don't have to choose between quality and affordability.
5. Expertise in Custom CNC Turning and Aluminum Services
Whether it's custom CNC turning parts or intricate aluminum machining, CNC Rapid boasts a team of seasoned machinists and engineers ready to bring your ideas to life. Their expertise ensures that even the most complex of projects are executed with precision and finesse.
At CNC Rapid, we pride ourselves on offering a comprehensive suite of services that cater to the unique demands of every client. From startups looking to bring their first prototype to life to established enterprises seeking large-scale production, our range of services ensures that every need is met with precision, efficiency, and dedication. Let's delve deeper into what CNC Rapid brings to the table:
Venturing into a new product or design? Our rapid prototyping services provide a quick and cost-effective way to turn your ideas into tangible prototypes. With advanced equipment and a team of experts, we ensure that your prototypes are accurate, functional, and ready for testing in no time.
Precision is at the heart of what we do. Our CNC machining services shop is equipped with advanced machinery that can handle complex tasks with utmost accuracy. Whether it's a single part or a large batch, we guarantee top-notch quality and timely delivery.
China is a hub for manufacturing, and CNC Rapid stands out with its exceptional CNC prototyping services. We combine local expertise with global standards to offer prototypes that meet the highest benchmarks of quality and precision.
Speed without compromising on quality – that's what our Rapid Prototype CNC service promises. Ideal for businesses on tight schedules, this service ensures that your prototypes are developed swiftly, allowing you to move to the next phase of your project faster.
Every part matters, and at CNC Rapid, we understand this. Our CNC machining part service focuses on producing individual parts that fit perfectly into your larger project. With a keen eye for detail and a commitment to quality, we ensure that every part we produce meets your exact specifications.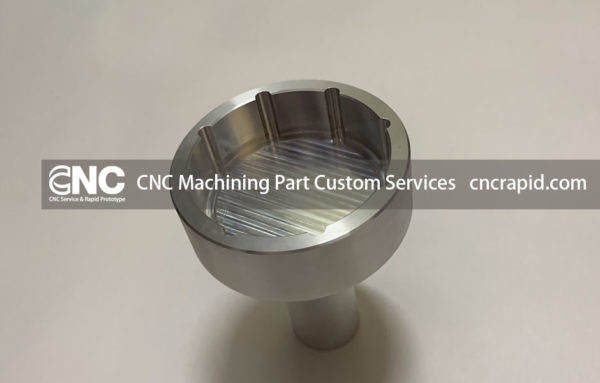 Marrying the speed of rapid prototyping with the precision of CNC machining, this service is perfect for businesses that need high-quality prototypes in a short span. Our team uses advanced techniques to quickly turn your designs into functional prototypes that can withstand rigorous testing.
Turn Your Ideas into Reality
At CNC Rapid, the goal is simple: to transform your concepts into tangible products that stand out in the market. With a blend of advanced technology, unparalleled expertise, and a commitment to excellence, CNC Rapid is your go-to destination for all things CNC in China.
Contact CNC Rapid Today!
We invite you to take advantage of our Metal & Plastic parts machining service, ideal for both prototypes and production needs. To receive a personalized quote, simply visit our website to get quote or reach out directly to our team at [email protected] with details of your project.
For the most accurate and speedy quote, kindly include the following in your communication:
Part Name
3D Drawing
Quantity
Material
Tolerance Range
Surface Finish
We appreciate your interest and look forward to serving your machining needs. Thank you for your time!